The modem kit is used with the INTREPID MicroPoint, MicroNet and MicroTrack systems to communicate remotely with the processors to provide service diagnostics using the Installation/Service tool software. The kit includes an external modem (made by US ...
The 26A1010 Cable Tie is black in color and made of an UV resistant, Nylon material. Used when attaching the MicroPoint or MicroNet Perimeter Detection Cable to a standard chain link, welded mesh or expanded metal fence system. Sold in packages of 1, 000 ...
The Cut Simulator Tool is used to perform testing of Southwest Microwave Inc. manufactured fence Perimeter Intrusion Detection Systems (PIDS). This tool simulates a cut attempt tothe fence fabric by providing a mechanical impact to the fence without ...
The 422A are used with the Intrepid MicroPoint Cable system or MicroNet system. They are small circuit cards with a terminal strip on one edge, a 16-pin female IDC connector on the other edge, a microprocessor and a RS422/485 driver chip. They connect ...
...
The BX20 is a NEMA 4X stainless steel weatherproof enclosure with Model PS40/41 power supply, two 12-position terminal strips, mounted tamper switch and one 3-position input power (115/230 VAC) shielded terminal strip. U-bolt mounting hardware for a ...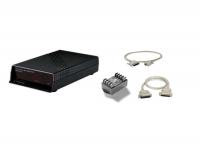 The converter kit is used with the INTREPID MicroPoint, MicroNet and MicroTrack systems to convert the RS422 data signal from the processors communication port to RS232 data for input to a PC or modem. The kit includes the converter (made by Black Box), ...
Southwest Microwave, Inc. offers a High Reliability version of its bi-static microwave links and mono-static transceivers that it manufactures. These include the Models 300B-33257, 310B-33259, 320SL-33255 microwave links and 380-33453, 385-33301 microwave ...
This laser printer is used with the INTREPID MicroPoint and MicroNet Perimeter Intrusion Detection Systems (PIDS) for alarm reporting. The Lexmark mono laser printer prints up to 20 pages of alarm reports per minute and comes with 16MB of memory. Selectable ...
Used for mounting bi-static microwave links such as models 300B, 310B or 316, and mono-static transceiverssuch as models 375C or 385. The bracket is zinc plated and fits a standard, 4. 0 inch (101mm) O. D. , mounting post. The swivel assembly allows for ...